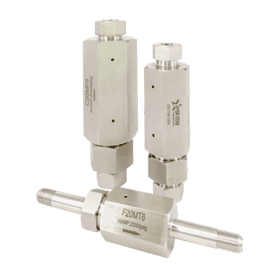 Line Filters
Delivery 6~8 weeks after PO
Features
»316 cold-work stainless steel body for excellent corrosion resistant and high tensile. Other special materials available.
»Low pressure drop.
»3 pressure levels available.15000 psig (low pressure), 20000 psig (medium pressure), and 60000 psig (high pressure).
»Long element life due to cup type.
»Working temperature ranges from -100°F to 450°F(-73°C to 232°C) for standard filters. Temperature to -420°F(-250℃) available. Temperature to 1200°F(638℃) available.
Drawing & Ordering Information
Dimension
1.MF means female medium pressure connection. HF means female high pressure connection.MM means male medium pressure connection. HM means male high pressure connection. MT meansmedium pressure tube end. HT means male high pressure tube end. FN means female NPT.
2.Ordering codes listed are for micron size 65μ. For micron size 5μ add "-5" after the ordering codes. For micron size 10μ add "-10" after the ordering codes. For micron size 35μ add "-35" after the ordering codes. Other sizes, materials and types are available upon request. For special requirements,please contact us.
https://www.web-watch.co.uk/franck-muller-infinity-replica/