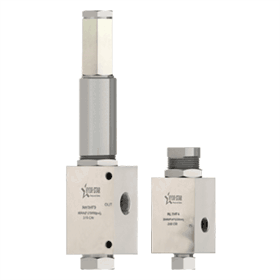 Relief Valves
Delivery 6~8 weeks after PO
Features
»316 cold-work stainless steel body for excellent corrosion resistant and high tensile. Other special materials available.
»Liquid or gas service.
»Metal seat and soft seat valves available.Soft seat valves provide bubble tight shut-off of gas.
»Working temperature ranges from -100°F to 400°F(-73°C to 204°C) for metal seat valves and soft seat valves.
»Work pressure up to 60000psig for metal seat valves.Work pressure up to 20000psig for soft seat valves.
»The cracking pressure will be set in the factory if the customer needs and provides set pressure.
Drawing & Ordering Information
Low flow valve
Standard valves with 1/4 HF connector inlet and 3/8 female NPT outlet.
High flow valves
Standard valves with 9/16 HF connector inlet and 1/2 female NPT outlet.
1.HF means female high pressure connection .
2.Ordering codes listed are standard. Other sizes,materials and types are available upon request.For special requirements, please contact us.

http://www.breitlingdealer.co.uk/breitling-replica-professional/