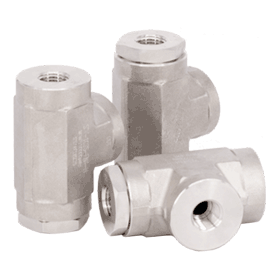 Shuttle Valve
Delivery 6~8 weeks after PO
Features
»316 stainless steel construction.
»Large CV factor assures fast system response.
»Small operating noise.
»May be used in pneumatic or hydraulic systems.
»Type to NACE MR-0175 available.
Description
The Shuttle Valve is a two inlet, one outlet device utilizing a free moving shuttle which blocks one of two inlet ports while allowing the unblocked inlet port to flow to the outlet .When a pressure signal is applied to one of the inlet ports,the shuttle shifts blocking off the opposite inlet port and flow goes through the outlet.
Construction & Specifications
Dimensions
High Pressure Hydraulic Valve
Dimensions
10000 psig just for hydraulic valves.Other sizes and types available upon request. For special requirements, please contact us.


Repair Kit
Repair kit:Contains all seals.