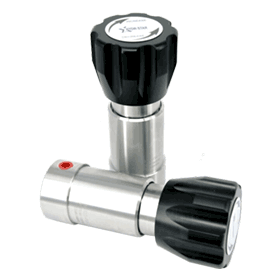 Hydraulic Regulator
Delivery 6~8 weeks after PO
Features
»316 stainless steel construction makes the valve has good corrosion resistance.
»Main valve metal to metal seal.
»Maximum inlet pressure:10000 psig(689 bar).
»Six outlet pressure ranges: B(200-10000 psig)、C(50-6000 psig)、D(25-4000 psig)、E(15-2500 psig)、F(5-800 psig)、G(5-300 psig).
»Working temperature:-15°F~165°F(-26℃~74℃).
»Spring loaded pressure reducing regulator.
»Piston-sensed design ensures safety and reliability
»Downstream pressure vent(relief) port optional.
»Flow coefficient : 0.12
Description
Turning the handle clockwise will increase the spring exerted tension to increase the regulator output pressure. Rotating the handle counter-clockwise will decrease the regulator output pressure. When the downstream pressure is higher than the set pressure the downstream pressure will relief from the vent port.
Construction & Specifications
Typical Flow Chart