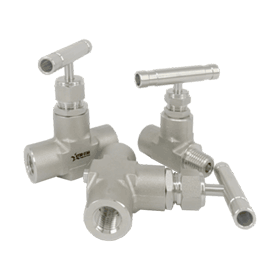 Gauge Valve
Delivery 6~8 weeks after PO
Features
»316 stainless steel construction.
»Prevents galling due to the no-rotation stem.
»Packing blow stem threads designed for reliable sealing.
»Vee or Regulating stem for flow control and shut-off.
»Working temperature ranges from -100°F to 450°F(-73℃ to 232℃) for standard valves with PTFE packing. And other packing materials available, such as graphite.
»Gland locking device prevent loosening of the packing gland.
Construction & Specifications
Ordering Code
Dimensions
1. MN means male NPT . FN means female NPT.
2. Ordering codes listed are standard. Other sizes, materials and types are available upon request. For special requirements,please contact us.